About NTYC
Narragansett Terrace Yacht Club is situated on Bullock Cove, between Riverside and Barrington, Rhode Island... on the northern most section of Narragansett Bay. It is a serene little cove with a protected breakwater and spotted with approximately 200 moorings. The channel leading into the Cove is a narrow passage that even the locals bump along the sides of, going in and out.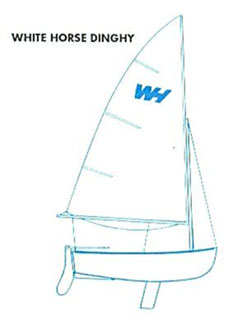 The Clubhouse itself is a very small and quite modest structure, propped up on pilings at the water's edge with a single run of floating docks reaching out beyond the edge of the Cove. The view from the deck of the Clubhouse is easy on the eyes and a pleasure in itself to just sit and look out on Bullock Cove on a lazy afternoon or quiet evening. No telephones, no bar (we have our methods), no swimming pool, no tennis courts...nothing but some great people, great boating and superb sailing!
Narragansett Terrace Yacht Club's beginnings are as modest as it's structure. The Club was founded in 1946 by a small group of friends, much like all social gatherings begin. This is where the similarities start to drift apart from all other groups or organizations. The people that founded the Club maintained and kept the membership (again) modest and resisted growth. As a result of this resistance to grow bigger and faster...the sustaining members became close friends... close like family. It certainly wasn't a motive of isolationism or stagnation that was adopted and kept things small. It was an inherent desire to keep things simple... in a complex world. It is a quiet and relaxing atmosphere. The Club, to this day, only maintains a maximum of 80 active members on it roles.
The term used "active members" needs be explained in more detail. Although situated in the Northeast of the United States, where many consider winters harsh... Sailing is a year-round activity. There is an extremely active "Frostbite Dinghy" fleet that meets every Sunday morning, rain, shine, snow storms, ice storms... and pushes off in their 8' "White Horse Dinghy Class" of small boats and race until noon. These small boats were designed by Justin Wood, a Club member, and built by Bob Taber, another Club member. They have produced more winter hours of pure entertainment than some of the great ski slopes in the world. They get their use during the other months of the year as well, as tenders.
The spring, summer and fall sailing schedules are even more active with evening races for cruising class sailors and a rowdy one-design fleet of Rhodes 19s (because they are modest, simple and easy on the eyes). For those with no interest in the racing scene (or even the sailing scene)... there are some of the most pleasurable cruising areas in Narragansett Bay right out the front door of the Club. It is only a quick 1-2 hour sail to Prudence Island where the Club maintains three permanent moorings for members and their guests. The Club also maintains a community use mooring at the (Yachting Capital of the World) harbor in Newport, Rhode Island. Other island destinations, Conanicut Island, Block Island, Martha's Vineyard, MA and Nantucket, MA are all within a day's sail from the Club.
If you are cruising in the area, we welcome you to stop by and visit with us at the Clubhouse. Someone is usually around and can provide you with some local color as well as an "insiders guide" to cruising Narragansett Bay. Check the calendar on the website for upcoming events and we'll hook you up as a guest. Leave your blazers and formalities on board and kick back for a relaxing moment with the greatest group of people you will ever meet.